Gallery
NCC cadets of PSPS Govt. PG College for Women Conducts an Awareness Rally on Save Tawi under Puneet SagarAbhiyaan.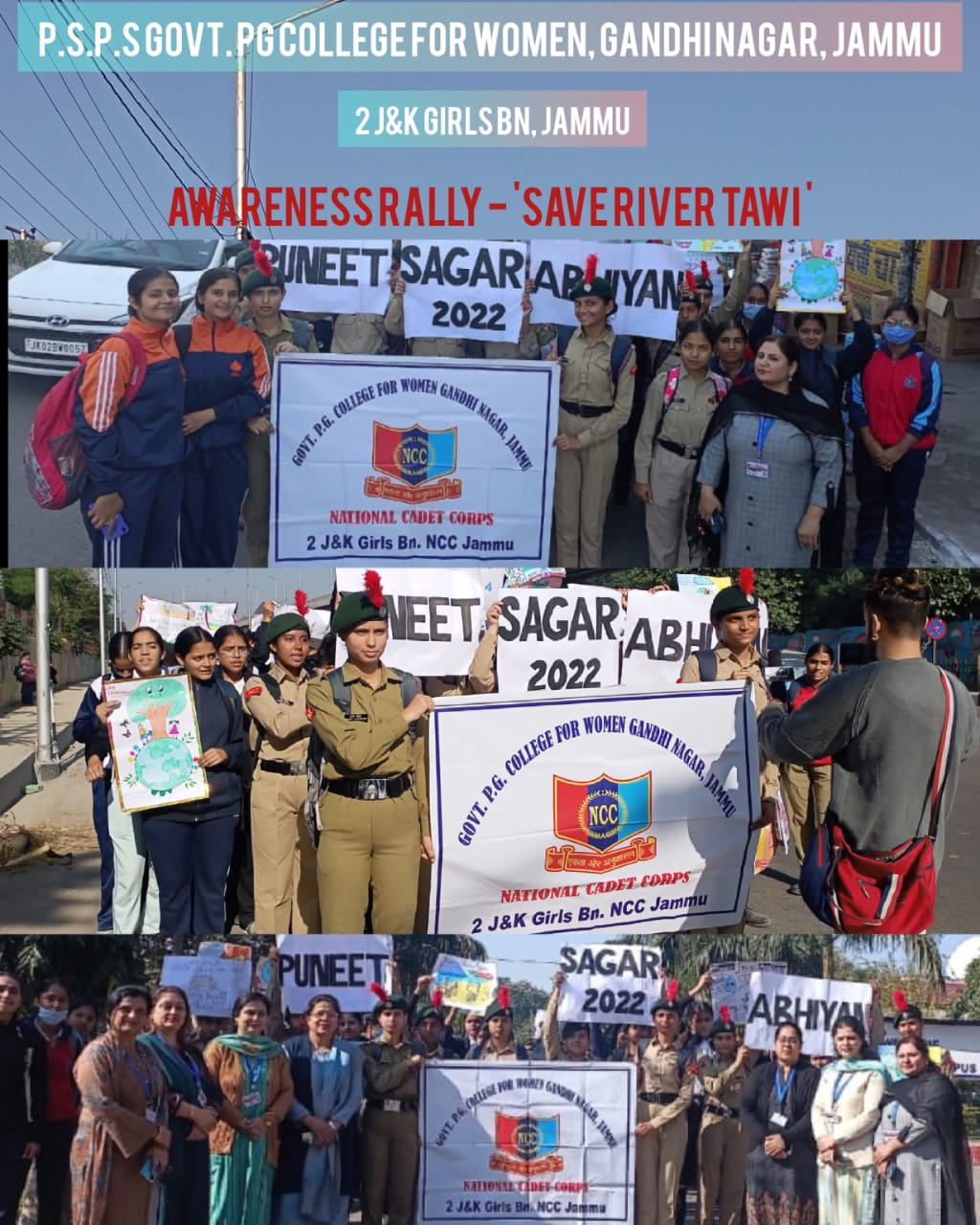 The NCC Cadets of 2 J& K Girls Bn of Padma Shri Padma Sachdev Govt.PG College for Women Gandhinagar Jammu Conducted an Awareness Rally on Save Tawi under PUNEET SAGAR ABHIYAN- 2022 on 23 Nov. 2022. 122 NCC cadets along with Staff and ANO Lt. Suman Bala participated enthusiastically in this rally. The rally was flagged off from the College via Ware House to Vikram Chowk. The slogans Save water, Save life ; Humbe yeh thana hai Tawi Ko Bachana Hai ; Jal Hai to Kal Hai echoed the locality and spread awareness among locals traveling, Shopkeepers at Ware house and Pedestrians that they should not throw the garbage into these precious water bodies rather be the part of this campaign and motivate others. Prof. Minu Mahajan , the Principal of the College applauded the cadets for their active participation and motivated them to be the part of such noble exercises in future also .
NCC cadets of 1st and 2nd Bn (Naval wing) conducted Swachhta Rally along the Green belt park and Gandhi Nagar hospital.....
NSS unit Conducted Swachhta Abhiyan..
Tree plantation drive on the occasion of 6th Van Mahotsava was initiated by Ch. Lal Singh ji Minister of Forest, Environment and Ecology, J&K
Prime Minister Special Scholarship Scheme Workshop Held At Govt. P.g..college For Women Gandhi Nagar Jammu
Red Ribbon Club
Annual day
Co-Curricular